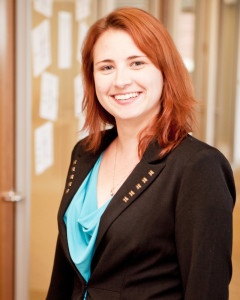 Today Antenna Group is honored to announce an impressive achievement: Antenna Group VP Kim Setliff was named PR News Rising PR Star 30 & Under.
asKim's a homegrown hero here at Antenna Group. She started off as an account coordinator here seven years ago—a position we don't even have anymore—and, as legend has it, quickly made herself known for a strong work ethic and impressive smarts. She quickly became the company's solar guru, where she accrued a deep understanding of all aspects of the solar market, from raw silicon to solar financing. Since then, she's helped dozens of companies in solar and beyond catapult into the spotlight with sound counsel, sharp writing and a heavy dose of media magic.
In recent years, Kim's turned those powers for good toward agency operations. Today, Antenna Group's in the best shape of its life with a dynamic culture, and Kim's right in the center of it. I'm proud to co-lead operations with her based in San Francisco.
For those of us who know Kim in and out of the office, this award is an overdue recognition for someone who lives and breathes Antenna Group. Kim loves the heck out of this place. She's always available, always thoughtful, always there to listen and mentor. I've come to rely on Kim for that one perfect insight that cracks open the problem I'm facing. She's profoundly authentic, so much so that she continues to cheer on Ohio sports teams after nearly a decade in California. All of Antenna Group surged when OSU won the national championship this year.
Kim hates making a big deal out of herself—ironically that very same humility has won her an organization full of advocates happy to do it for her.
Here's to Antenna Group's Kim Setliff for a well-deserved honor! We can't wait to see where Kim takes us next.